Our bike trips START and FINISH in Jim Thorpe

Biking
Family Special...Families with 3 or more children......1 child shuttles FREE!
We offer several types of biking in the Poconos, from beginner, family type biking to biking for the hardcore, adventurous type. We will point you in the right direction. Check here for scheduled night rides.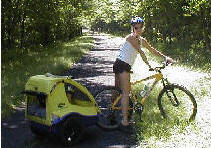 Lehigh Gorge Trip - Hop on our shuttle and bike 15 or 25 miles down this scenic 2% downhill grade. Great for families or if you just want to meander your way through an important piece of history along the Lehigh River. For you exercise buffs, at a faster pace, this is a great cardio workout. Rails-to-Trails
Shuttles run daily at 10AM, Noon & 2 PM
Switchback Trip - Our shuttle will drop you off in Summit Hill, where you enjoy an easy 9 mile ride through the woods, past Mauch Chunk Lake and back into town. While at Mauch Chunk Lake, check out our boat rentals.
Shuttles run daily at 11AM, 1PM & 3PM
Bike Pricing

All Rentals are for a 24 hour period.
Prices DO NOT include applicable taxes
Bike Rental Only - $27.95 p.p. Kid's 20" & 24" bikes - $21.50 Tag-a-long bike & Baby Buggy - $21.50
Lehigh Gorge Shuttle Only - $17.95 p.p.
Switchback Shuttle Only - $14.95 p.p.
Bike Rental & Lehigh Gorge Shuttle - $39.95 p.p.
Bike Rental & Switchback Shuttle - $36.95 p.p.
New for 2011
Glen Onoko Shuttle - For those of you who want a quick bike trip or who arrive too late for our other trips, we can drop you off in the Glen Onoko area of the Lehigh Gorge and you can ride the new trail back into town. The cost is only $12.00 p.p. and we now have hourly bike rentals at $9.95 per hour. If you are gone more than 3 hours, your charge would convert to the cheaper daily rate. Subject to availability of Shuttle Vans.
Multi-day rentals available

Reservations are recommended for all our trips.
Please arrive one half hour before your scheduled departure time.